Ivana, what is unique about the film project "Return of Tesla", so special that you said: "YES"?
The way it all started is unique: Nikola Tesla is unique, as is the way Roman Tolic, the film director and producer, and I met after almost 20 years. As if "something" connected us in the given moment. This film project is something yet unseen in the world and I am glad to be a part of it.
What are your activities in the film project?
My initial role was to interprete and organize the translation of the entire film. From the original idea, we came to that that I support complete organization of the project and "come to the rescue" whenever a problem emerges.
It is difficult to define us, anyway, how would you describe yourself in two sentences?
Responsible, independent and hard-working; always eager for change and curious. And on the other hand sensitive and fragile, very emotional.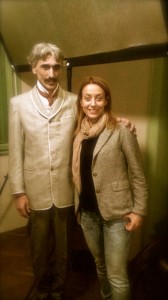 What is so special about Mr. Tesla?
Tesla is special in every way. In the way he expresses himself, the way he communicates, both in writing and face to face. The ease of communication with him is amazing. And listening to everything he has to say and share with others is fascinating and when I listen to him I feel as if time does not exist and I could listen to him speak like that unaware of how much time has passed.
Tell us about your professional carrier, the highlights so far?
As a teacher of the German language, I worked in the German School in Belgrade, then I worked in several Austrian companies and the German Embassy. The highlight of my career is most certainly the founding of my own company for translation and consulting, which has been operating successfully for 3 years already.
Ivana Cvetkovic is CEO of Beo Network Expert. Contact Info via LinkedIn